Buletin Prahu-Hub
Berita & Update
Mengenal Ekspedisi Kargo dan Istilah-Istilah dalam Kegiatannya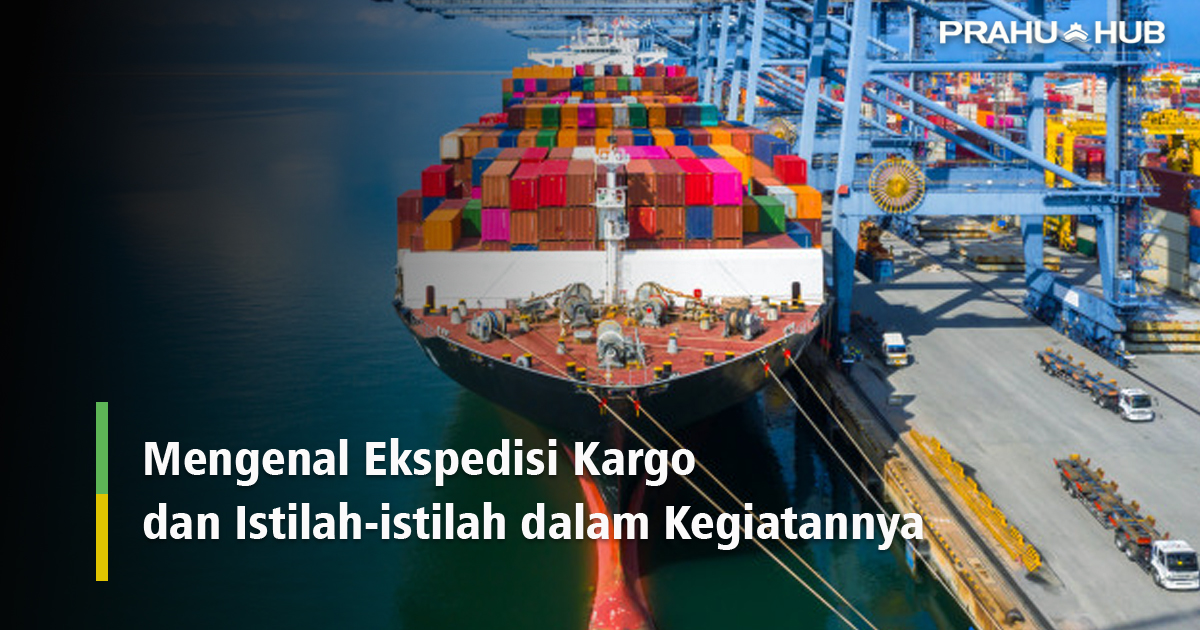 Apa itu Ekspedisi?
Para pelaku bisnis di dunia pengiriman dan jasa antar barang pasti sangat familiar dengan kata ekspedisi. Sebuah kata yang sering kita jumpai namun masih banyak dari kita yang bingung akan arti kata ekspedisi tersebut. Dalam artikel ini kami akan mencoba menguraikan beberapa penjelasan tentang ekspedisi dan istilah-istilah yang sering muncul dalam dunia logistik & kargo.
Menurut KBBI (Kamus Besar Bahasa Indonesia) Ekspedisi memiliki arti Pengiriman surat, barang, dan sebagainya. Selain itu Ekspedisi juga memiliki arti "perjalanan" atau "pengembaraan" dalam hal ini lebih merujuk pada konteks aktivitas pemindahan barang. Istilah ekspedisi lebih mengarah pada perusahaan jasa angkutan barang dalam skala besar dengan tarif yang relatif murah seperti bahan bangungan, sembako, furniture, dan lain sebagainya.
Apa itu Kargo?
Sedangkan arti kata Kargo menurut KBBI (Kamus Besar Bahasa Indonesia) memiliki arti muatan barang yang diangkut dengan kapal laut, pesawat udara, atau pengangkut lain. Istilah kargo ini biasa digunakan untuk pengiriman barang dalam skala besar baik dalam metode FCL (Full Container Load) maupun LCL (Less Container Load). Seperti yang dijelaskan pada artikel Perbedaan FCL dengan LCL.
Dalam kegiatan logistik terdapat beberapa istilah yang biasa digunakan para pelaku bisnis ekspedisi. Berikut telah kami rangkumkan beberapa istilah dalam kegiatan logistik diantaranya adalah;
Shipper :

atau biasa lebih dikenal dengan pengirim barang. Pada dokumen-dokumen yang dilampirkan seperti : BL (Bill of Lading), Packing List, Commercial Invoice, dll. Nama dan alamat lengkap Shipper harus tertulis dengan jelas. 

Consignee :

atau lebih dikenal dengan penerima barang. Sama seperti shipper, nama dan alamat lengkap consignee harus tertulis jelas, pada dokumen-dokumen seperti ; BL (Bill of Lading, Packing List, Commercial Invoice, dll

Vessel :

Kapal

Voy (Voyage) :

Nomor keberangkatan kapal. 

Descriptions of goods :

Deskripsi barang terdapat pada packing list (lengkap) dan Bill of Lading.

G.W (Gross Weight) :

Berat kotor dari barang dan kemasan barang itu sendiri. Contoh berat barang 2 Kgs dan berat kemasannya 0,5 Kgs maka G.W : 2,5 Kgs.

N.W (Net Weight) :

Berat bersih barang sebelum di kemas

LCL (Less than Container Load) :

pengiriman barang yang kapasitasnya dibawah standar kapasitas muat kontainer.

FCL (Full Container Loaded) :

Pengiriman barang dengan menggunakan kontainer.

CY :

Container Yard yaitu mode pengiriman dari tempat penumpukan petikemas. 

DOOR :

Alamat gudang atau lokasi asal serta lokasi pengambilan barang yang akan dikirim.

ETD

(Estimation Time of Departure) : adalah perkiraan waktu keberangkatan kapal.

ETA

(Estimation Time of Arrival) : adalah perkiraan waktu kedatangan kapal.

B/L

(Bill of Lading) : adalah Konosemen atau bukti pengiriman barang dan pengambilan barang.

P.O.L

(Port Of Loading) : adalah pelabuhan muat.

P.O.D

(Port Of Discharge) : adalah pelabuhan bongkar.

UTPK

: adalah Unit Tempat Penumpukan Peti Kemas.

DEPO

: Tempat penumpukan container kosong.

O/S

(Open Stack) : adalah waktu dibukanya kontainer/ barang boleh ditempatkan di warehouse atau UTPK.

C/T

(Closing Time) adalah waktu ditutupnya pemasukan/ penumpukan barang di warehouse atau UTPK.

DO

(Delivery Order) : adalah surat yang diterbitkan pihak shipping atau forwarder kepada shipper sebagai bukti pengambilan kontainer kosong. 

Stuffing

: adalah proses pemuatan barang ke dalam kontainer.

Stripping

: adalah proses bongkar muat barang dari kontainer.

Part of Shipment

: adalah pengiriman barang yang menggunakan 1 kontainer, dimana dalam kontainer tersebut terdiri dari beberapa nama shipper namun dengan tujuan satu consignee.

Dry Container :

adalah standar kontainer yang digunakan untuk mengangkut barang-barang biasa. Seperti : besi, sembako, keramik, cat, furniture, dan bahan bangunan. 

Reefer Container :

adalah jenis kontainer yang memiliki pengatur suhu dingin. Biasanya digunakan untuk pengiriman produk yang makanan frozen dan makanan hidup seperti ; ikan, buah-buahan, sayur-sayuran. dll
Nah itulah beberapa penjelasan yang dapat kami sampaikan mengenai pengertian dari ekspedisi dan istilah-istilah yang biasa digunakan dalam prosesnya.
Adanya jasa ekspedisi pengiriman barang memegang peran penting bagi masyarakat Indonesia. Kebutuhan akan jasa pengiriman barang saat ini sangat besar, mulai dari perusahaan atau pabrik juga industri kecil, bisnis online, dan bisnis UMKM semua memiliki kebutuhan jasa pengiriman barang.
Jika anda membutuhkan jasa ekspedisi pengiriman anda bisa menggunakan Prahu-Hub. Prahu-Hub terhubung dengan penyedia jasa pengiriman terpercaya dan berpengalaman di seluruh Indonesia.  Dapatkan informasi berbagai rute pengiriman antar pulau berikut jadwal dan harga yang transparan untuk selalu membantu kelancaran bisnis Anda.
Related posts